Seattle Bruce Lee Fan Club
Meeting and connecting with
Fans from all over the world and documenting Local Seattle information on Seattle's Famous Legend Bruce Lee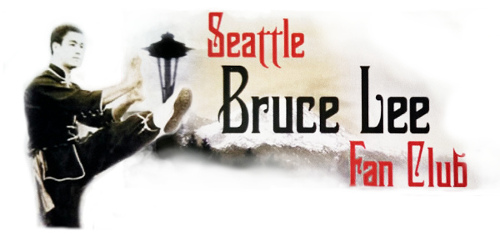 ---
NEWS
Preserving Bruce Lee's first formal Studio

The Northwest Museum of Legends and Lore, a 501(c)3 non-profit and home of the Seattle Bruce Lee Fan Club is beginning efforts to preserve and purchase the building and studio of Bruce Lee's first Jun Fan Gung Fu Institute in Seattle.
The first formal studio of Martial Artist Bruce Lee has long been recognized by students and historians at 4750 University Way in Seattle and is believed to be one of the last remaining structures where Bruce Lee not only taught his martial arts but where Bruce Lee also lived.
The studio has been listed as the "Jun Fan Gung Fu Institute" and Bruce Lee is considered to be the father of mixed martial arts.
The museum plans to nominate the site for historical preservation with the City of Seattle with the goal to restore the front to as close to the original 1963 martial arts studio with active martial arts classes to honor Bruce Lee's family, students and legacy.
The museum's efforts to preserve the studio for posterity so that others can be inspired by what is considered one of the world's most famous Martial Artists and a global icon who fought for equality.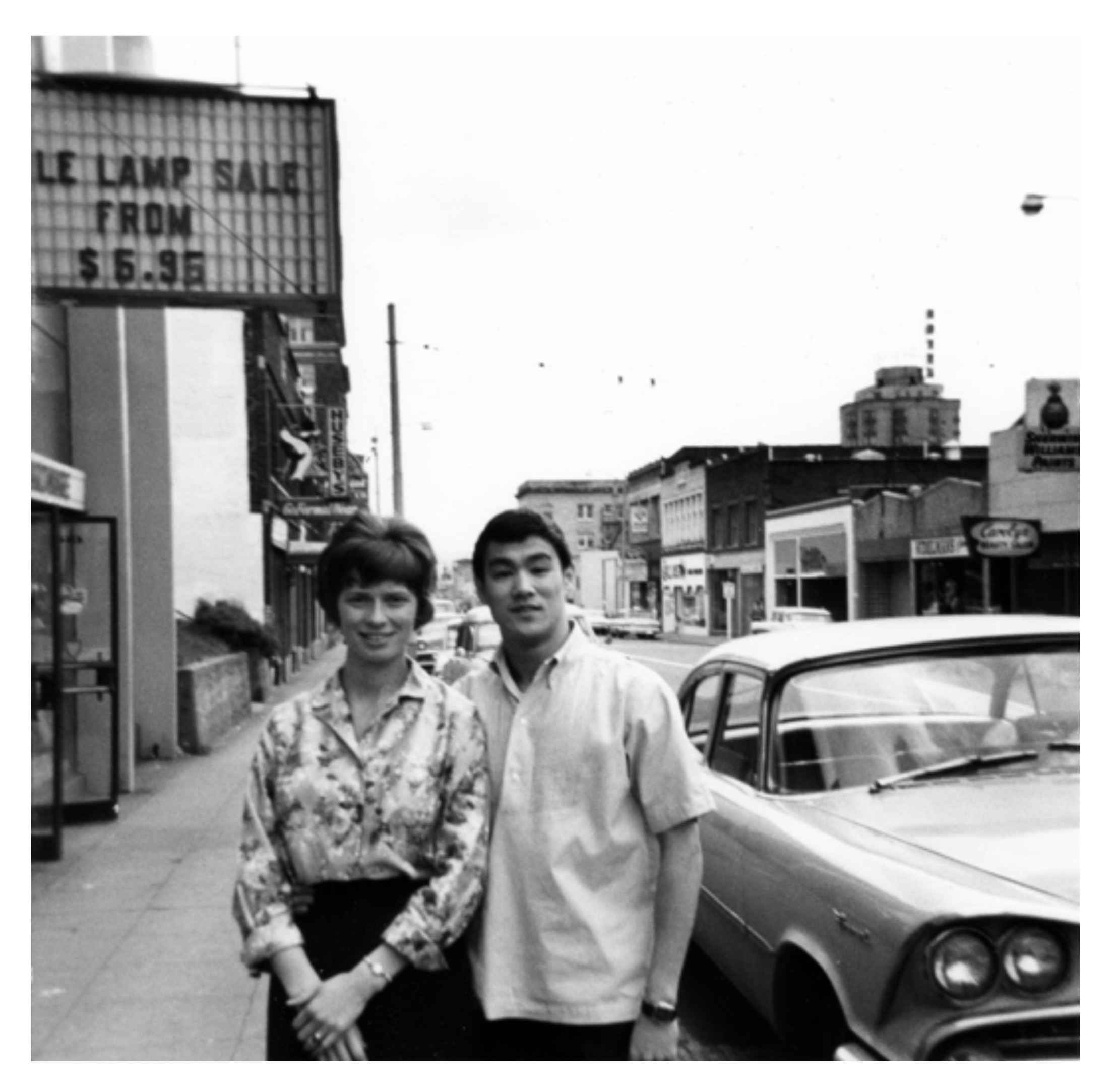 Check for the latest news on the

Check out the ongoing exhibit of Bruce Lee at the Seattle Wing Luke Museum

Spirits of Seattle
Bruce Lee, Kurt Cobain, Frances Farmer and Jimi Hendrix
by Charlette LeFevre, a rendition from Edward Hopper's Nighthawks
Click here for
Map
of Seattle Spirits and famous locations on Capitol Hill
Bruce Lee, Kurt Cobain, Frances Farmer and Jimi Hendrix
Famous locations on Capitol Hill where Bruce Lee started as a waiter, map of Lakeview Cemetery where Bruce and Brandon Lee are buried.
Where Frances Farmer lived, where Jimi Hendirx's statue is located, Garfield H.S., Where Kurt Cobains house is and Viretta Park which has become his memorial and haunted locations and more...
The afternoon sun shines down on Bruce Lee's gravesite on
Nov. 27, 2013 - Bruce Lee's Birthday.
His students place flowers and candles on Bruce and Brandon Lee's gravestones.
Bruce Lee's Gravesite
July 20, 2013
Michael and Andrew O'Brian visit Bruce Lee's gravesite all the way from Ireland.
Dozens of visitors leave flowers to remember Bruce Lee.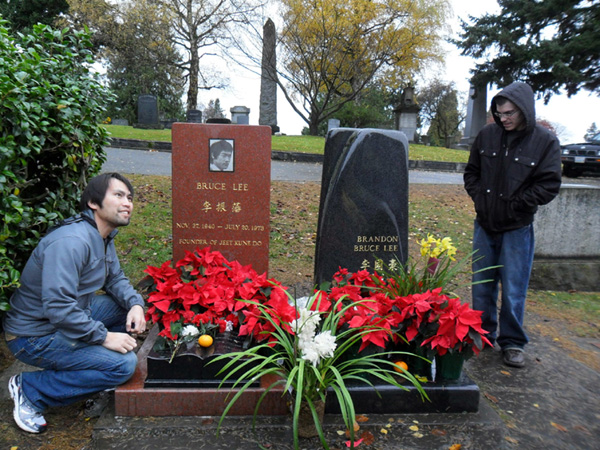 Visitors say hello at Bruce Lee's gravesite, Nov. 27, 2011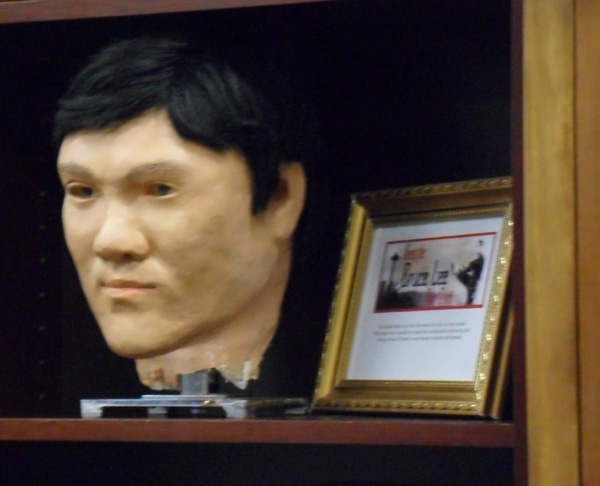 Developing a Bruce Lee wax head
Seattle Gourmet Coffee has launched a new Blend in honor of Jesse R. Glover Bruce Lee¹s First Student.
Jesse Glover¹s (Bruce Lee¹s first student) original non classical coffee created especially for him. This coffee is bold yet smooth like the man himself!
Order some today. (click on label) Be like coffee my friend!



Bruce Lee Day Celebrated Sat. Nov. 27
at the Seattle Museum of the Mysteries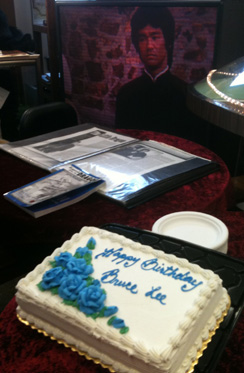 Charlette LeFevre - Seattle Bruce Lee Fan Club wishing Bruce Lee Happy Birthday

Bruce Lee, one of the world's greatest martial artists continues to bridge the East and the West, who fought for human dignity and is one of the most well known Asians who it is believed has broken more barriers than any other Asian in history.
Bruce Lee lived in Seattle from 1959 - 1964, graduated Edison Technical School in 1960, attended the University of Washington for three years, was married in Seattle and is buried in Seattle. Bruce would have been celebrating his 70th birthday on Nov. 27th which is recognized as Bruce Lee Day around the world. November 27th also marks the grand opening of the new location of the Seattle Museum of The Mysteries.

Photos from Bruce Lee's Birthday Nov. 27th 2009, Lakeview Cemetery
Happy 69th Birthday Bruce!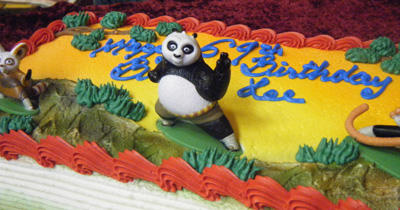 Visitors David Chung, Ngay Tang, Taky Kimura, Kevin Lee Carmell

MMA Martial Artists Joel Jamieson, Akyo Nishura, Daniel Eng, Mizuno, Matt Hume (owner of AMC American Martial Arts Center), Tony Sablan

Marcos Coquinho, Akyo Nishura, Mizuno, Tony Sablan, Drew Dambreville, Joel Jamieson, Matt Hume, Daniel Eng, Mauro Brandeluero
Kung Fu Panda on Cake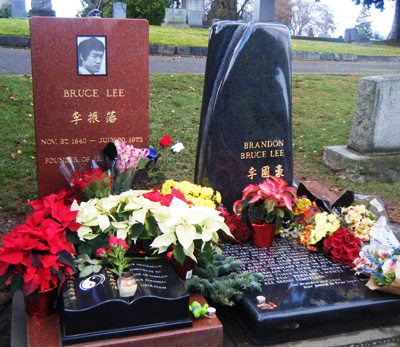 Bruce and Brandon Lee's gravesite 2009.
Note green ninja turtle on Bruce's grave and little grey dragon sitting on top of headstone.
---
Photos from Bruce Lee's Birthday Nov. 27th 2008
Lakeview Cemetery
...
....

Taky Kimura and Friends at Bruce Lee's Gravesite. Taky Kimura is a first
generation student of Bruce Lee and continues to teach.

Bruce Lee had an Apple Spice Cake this year as it was also Thanksgiving.
Happy Birthday Bruce!

The Bruce Lee Foundation presented the
35th Anniversary Event of Enter the Dragon in Seattle
All photos from the event are by Charlette LeFevre
If used, please credit source.
The Memorial on July 20, 2008. Photo by Charlette LeFevre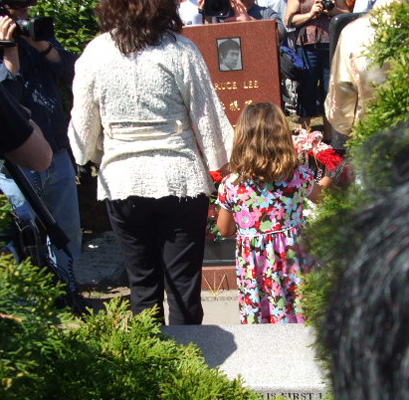 Shannon Lee and her daughter Wren visit the grave site of Bruce Lee for his memorial.

Taky Kimura and Linda Lee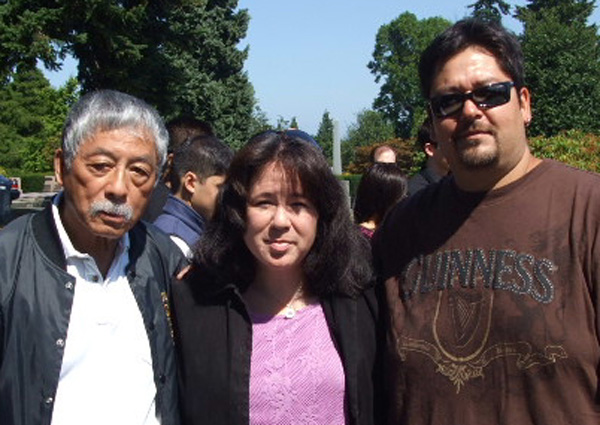 Taky Kimura, Charlette LeFevre and Andy Kimura
Perry Lee who owns one of the world's largest collections of Bruce Lee memorabilia in front of the new proposed Bruce Lee Museum.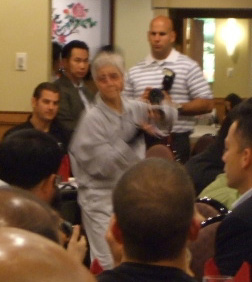 Phoebe Lee, sister of Bruce Lee gives a demonstration with a sword of a rare form of martial arts her father taught her.
Shannon Lee and her daugther Wren - The Littlest Dragon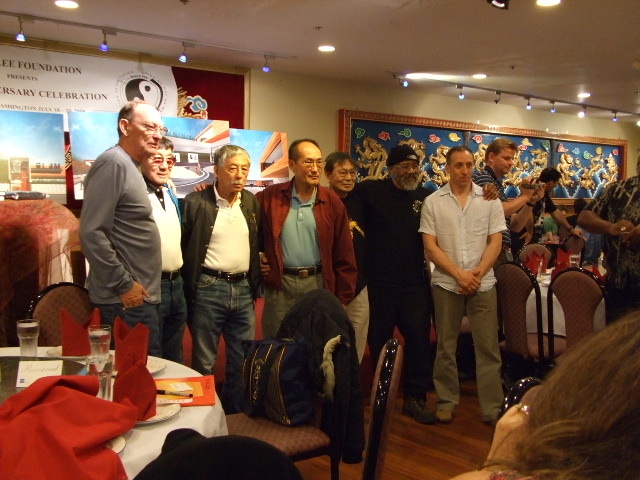 Some of the world's best martial artists and friends of Bruce Lee pose together for a photo.

Charlette and Jesse Glover - Bruce Lee's first student in front of a photo exhibit of Bruce Lee Seattle photos.
All photos from the event are by Charlette LeFevre
If used, please credit source.
Anyone who has additional photos of the event, please e-mail me at clefevre@oz.net.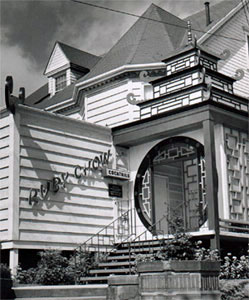 ....

Ruby Chows restaurant on Broadway - now a parking lot
photos courtesy of Michael Maikowsky
Bruce Lee at Ruby Chow's Restaurant on the corner of Broadway and Jefferson- now a parking lot
- one of the first locations where Bruce Lee first started demonstrating his martial arts.
Ruby Chow, at one time held the position of City Commissioner and the world's first woman member of the Chong Wah Benevolent Association.

Bruce Lee's first students
Ed Hart is on the left, then LeRoy Garcia, James DeMile, Jesse Glover.
1961 at DeMiles home. Likely celebrating a birthday.
It was Bruce Lee who was taking the picture.
Photo courtesy of James DeMile
....

Amy Sanbo
Senior photo from Garfield H.S.yearbook - and in 2007 reflecting on her memories of Bruce.
The mysterious stunningly beautiful Japanese girl Bruce Lee proposed to and wanted to marry
giving her his grandmothers ring.
Bruce Lee met Amy Sanbo at the University of Washington in 1960. Amy graduated from the Univ. of Washington and became a dancer and playwrite.

Amy Sanbo with dancer Karl
Stairs North of the University of Washington near Fluke Hall, believed to be the stairs Bruce Lee carried Amy Sanbo
when she hurt her foot.
Lonny Kaneko - Author and poet met Bruce Lee also at the University of Washington and often wient out together with Amy Sanbo and Bruce.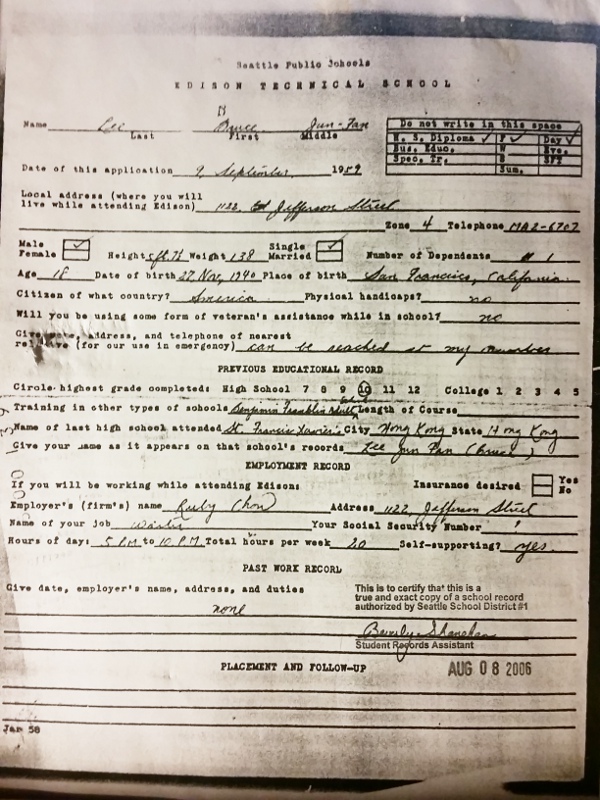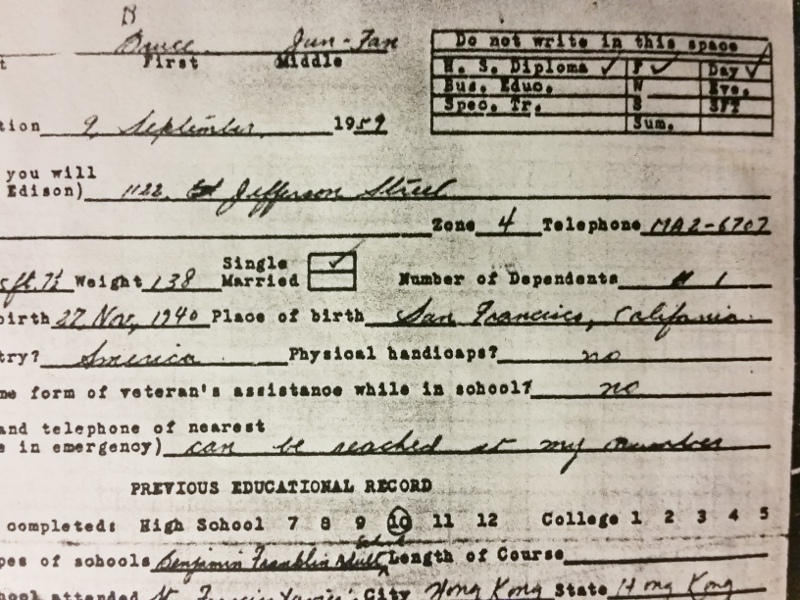 Mystery
Bruce Lee's registration form Sept. 9, 1959 to Edison Technical School and detail.
Bruce indicates in his own handwriting a dependent. Does Bruce Lee have a child?
---
Bruce on his birthday
Nov. 27, 2007
Seattle, WA





Photo of Bruce Lee Nov. 27, 2006
Seattle, WA
Taky Kimura, Bruce Lee's senior student and friend
at Bruce Lee's Website on the 33rd anniversary of his death June 20, 2006.
Seattle, WA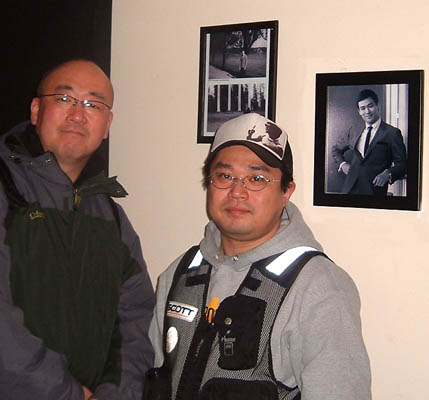 March 2006
Hironori Tabata and Yuichi Onozuka, Director of the
Japanese Bruce Lee Fan's website
Wave and Spiral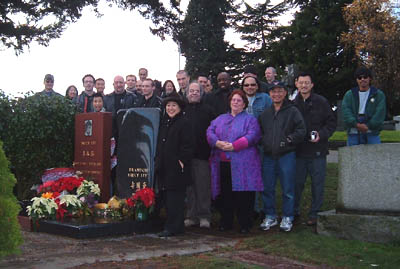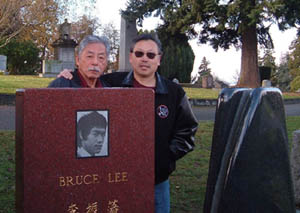 Group of people who visited Bruce and Brandon Lee's gravesite on his birthday, Taky Kimura- student and friend of Bruce Lee and Perry Lee- world collector at Bruce's gravesite.


---
Tidbits
Bruce Lee graduated from Edison Technical School Dec. 2, 1960 on Capitol Hill - now Seattle Central Community College
Was Bruce Lee defeated by a Ghost?
(From Robert Clouse Bruce Lee-the Biography)
Ruby Chow's restaurant was known to be haunted. There was the case of a cook who saw a ghost in the basement and came flying up to leave his employer that day.
Ruby claims to have seen a ghost that appeared as a black shadow and pinned her down on the floor on her stomach.
She never again slept on her stomach. This same shadow grappled with Bruce as well. He told of being held down for several
minutes, drenched in sweat by the time he was finally released. This was probably one of the few times Bruce had been physically defeated.
There were other ghostly appearances in the restaurant, but none proved threatening. One cousin who worked for Ruby during
those years was jostled as she was taking a tray of dirty dishes to the kitchen.
A half-filled teapot tipped over on its side and its contents formed a perfect question mark on the floor.
Scoff at your own risk.
(one wonders if this incident was to later influence his life, his studies of philosophy and a strong reason Bruce Lee wanted to leave the restaurant )

Places Bruce Lee visited

Area where Bruce Lee practiced, demonstrated his martial arts and where he asked his future wife Linda Emery for their first date to the Space Needle.
Sylvan Theater at the University of Washington - visible from the road at South end of Stevens Way at 40th St. entrance to campus.
Right - Librarian Philip Lipson at the columns Dec. 2005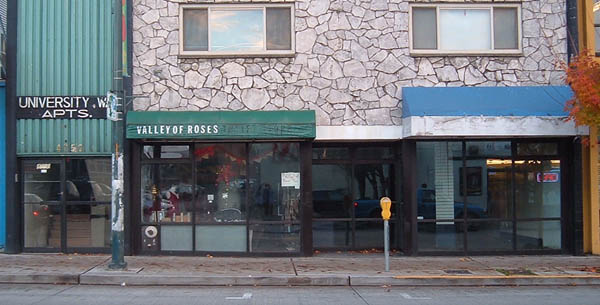 Bruce Lee's third studio was also at 4750 University Way. He lived in the back part in 1963.
Taky Kimura took over lessons when Bruce Lee went to Oakland in 1964.
Should this be historically designated? We think so!
According to Taky Kimura and Skip Ellingsworth's website, Bruce Lee also ate at
Tia Tung Restaurant
in the International District.
659 S. King St. Seattle,
It is considered Seattle's oldest Chinese restaurant, if not the oldest restaurant in Seattle having established since 1930.
Authentic Chinese
(their almond chicken is really good!)

Check out www.andykimura.com
Ongoing

Other Legends of the Northwest

---
Frances Farmer


Collector's card
See the museum exhbit for additional photos
Tidbits
Frances Farmer went to West Seattle High School and the University of Washington
At one time she lived at 312 Harvard Ave East which is believed to be behind the current Washington Mutual on Broadway.
---
Kurt Cobain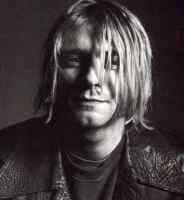 Tidbits
Lakeview Cemetery according to a Seattle PI new report July 3, 1995 refused Kurt Cobain's ashes stating....
Dean Mathiesen, Love's personal assistant, said, ``Their reason was that they already had their hands full with
Bruce Lee and Brandon being buried there, and they couldn't take on another celebrity."

Its been said he liked Count Chocula cereal and Fruit Loops.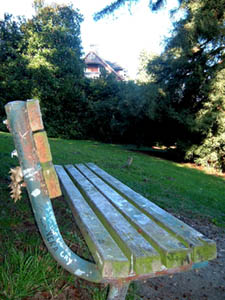 Kurt's bench at Viretta Park and just beyond - the house where he died.
Viretta park is on the corner of 39th Ave and E. John.
---

Jimi Hendrix
Tidbits
Jimi Hendrix statue is on Broadway and was created by the record company it sits in front of.
He claimed to have a UFO sighting during Woodstock and a UFO encounter according to fellow musician Curtis Knight.
Stop by the museum to see a stature of Jimi Hendrix by sculptor Roark Congden.